The museum is pleased to offer train fans a selection of calendars created by the Atlanta Chapter NRHS.  The chapter creates these annually as a fundraiser and appreciates your support.
The 2017 Calendar Steam Excursions II features:
Photos from the collections of Thom Logan, Harvey George & Peter George.   Locomotives include: S&A750, N&W611, N&W1218, SP4449, Sou4501, GM&N425, Frisco 1522, T&P610, C&O614  US Army 610 & 606, CP1278 (Gettysburg).    Many thanks to our photographers for the use of this selection.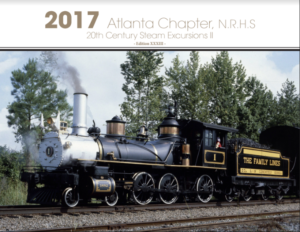 Cover photo credit to Harvey George, CRR #1 on a 1978 excursion.
Price is $14 online or by mail, $11 if purchased at the museum gift shop.
The Atlanta Chapter's railroad calendar for 2017 will make an ideal gift for your railroad minded friends, family, children, and grandchildren.
Please allow 2-4 weeks for delivery.
Each back issue calendar is $5.00 including postage. Georgia resident pay 6% sales tax.
(Please allow 2-6 weeks for delivery.)
 Click to checkout

 





	
Year
Description
Price 
Purchase





	
2017
TBA
$14
 



	
2016
The photographs in the 2016 edition of our calendar are of steam locomotives that worked in excursion service in the South from the 1960's to the 1990's..The skills of Harvey George, Peter George, and Thom Logan are exhibited here.



The Atlanta Chapter, N.R.H.S., wishes to express our thanks to Harvey George, Peter George, and Thom Logan for sharing their fine photography with us. Harvey George is a retired U.S. Army Colonel and is a lifelong rail fan and photographer. His work has appeared in many publications. Peter George is a political science major and a U.S. Army Major. He's a longtime rail fan and photographer. Thom Logan is a professional photographer and served as Head Docent at the Southeastern Railway Museum. 
$5
 



	
2015
 	The photographs in the 2015 edition of our calendar are of steam locomotives that worked in passenger service in the South when steam was still in regular service. These shots are from the 1930's to 1950's.



The skills of Frank E. Ardrey, Jr.; Hugh M. Comer; Tom Lawson; Tom Soloman; Harry Wolfe; and D.W. Youngmeyer are exhibited here from the collections of Robert H. Hanson, the Bramson Archive, and the Central of Georgia Railway Historical Society. The Atlanta Chapter, N.R.H.S. wishes to express our thanks to Bob Hanson, Seth Bramson, and the Central of Georgia Railway Historical Society for making their collections available to us. 
$5
 



	
2014
The photographs in the 2014 edition of our calender are of steam locomotives that could be found working in Georgia when steam was still in regular service. These shots are from the mid-teens to the early fifties and range from obscure short lines to the well known major railroads.



The skills of Hugh M. Comer; John E. Jones, B.F. Roberts, Karl E. Schlochter, C.T. Felsteed, C.B. Meden, Shelby F. Lowe, W.H. Thrall, Jr., and Frank E. Ardrey, Jr. are exhibited here.
$5
 



	
2013
The photographs in the 2013 edition of our calender are of steam locomotives that could be found working in Georgia when steam was still in regular service. These shots are from the mid-teens to the early fifties and range from obscure short lines to the well known major railroads. The skills of Hugh M. Comer; John E. Jones, B.F. Roberts, Karl E. Schlochter, C.T. Felsteed, C.B. Meden, Shelby F. Lowe, W.H. Thrall, Jr., and Frank E. Ardrey, Jr. are exhibited in this collection. 
$5
 



	
2012
The photographs in the 2012 edition of our calender are of steam locomotives that could be found working in Georgia when steam was still in regular service. These shots are from the early 1930's to the early 1950's and range from short line to main line operations.
$5
 



	
2011
The photographs in the 2011 edition of our calender are of steam locomotives that could be found working in Georgia when steam was still in regular service. These shots are from the early 1930's to the early 1950's and range from short line to main line operations. 
$5
 



	
2010
The 2010 calendar is a celebration of the 100th birthday of S&A 750. She was built in 1910 by American Locomotive Company (ALCO) for the Key West Extension of the Florida East Coast Railway. 750 is a light Pacific (4-6-2) with 69 inch driving wheels. Originally numbered 80 for the FEC, she was sold to the Savannah and Atlanta Railway in 1935 when the FEC replaced her and her sisters with larger power. She was renumbered, rebuilt and released as 750. She lasted on the S&A until 1962 when the Central of Georgia assumed operation of the S&A.



This calendar is a tribute to a lady we all love, S&A 750, who turns the big 100 this year.
$5
 



	
2009
The 2009 calendar includes 15 different black and white photographs of steam locomotives from the collections of Frank and Jason Greene. The theme is "Steam after Retirement." This year we find steam running in excursion and tourist operations throughout the South. Examples are from Georgia, Alabama, North Carolina, South Carolina and Tennessee. Steam locomotives representative of Southern, Texas & Pacific, Canadian Pacific, Chesapeake & Ohio and more. 
$5
 



	
2008
A total of fifteen (15) different black and white action photographs of steam locomotives, taken from the collection of Frank Ardrey, are shown for each month and on the covers of the Calendar. Locomotives of the following railroads are shown: Seaboard Air Line; Alabama Central; Atlanta, Birmingham & Coast; Forest Products Chemical Company; Kentucky & Tennessee; Florida East Coast; Louisville & Nashville; Gulf, Mobile & Ohio; Flovilla & Indian Springs; East Tennessee & Western North Carolina; Central Lumber Company; Brimstone Railroad; Turner Timber Company; Southern Railway; St. Louis & San Francisco
$5
 



	
2007
Atlantic Coast Line 7226  (2-8-2) with 2012 (2-10-2), Savannah & Atlanta 752 (4-6-2), Central of Georgia 663 (2-8-2), Southern Railway 5064 (2-10-2), Clinchfield Railroad 660 (4-6-6-4) with 418 (2-8-2), Louisville & Nashville 1347 (2-8-0), Georgia Road 135 (4-6-0), Central of Georgia 708 (2-10-2), Gainesville Midland 112 (2-8-0), Georgia Road 501 (2-8-2), Mississippi Central 131 (2-8-2), Louisville & Nashville 1216 (2-8-0), Southern Railway 5066 (2-10-2), Nashville, Chattanooga and St. Louis 624 (2-8-2)
$5
 



	
2006
West Railway of Alabama 190 (4-6-2), Southern Railway 4772 (Mikado), Central of Georgia 451 (4-8-4), Central of Georgia 431 (4-6-2), Southern Railway 6626 (Mikado), Florida East Coast 122 (4-8-2), Southern Railway 6613 (Mikado), Nashville, Chattanooga and St. Louis 534 (4-6-2), Southern Railway 1409 (Ps-4), Central of Georgia 457 (4-8-4), Central of Georgia 473 (4-8-2) 457 (4-8-4), Nashville, Chattanooga and St. Louis 558 (4-8-2), Central of Georgia 497 (4-8-2), Nashville, Chattanooga and St. Louis 577 (4-8-2).
$5
 



	
2005
Nashville Chattanooga & St. Louis 505 (4-6-2), Louisville & Nashville 257 (462), Southern 1499 (4-8-2), Georgia Railroad 205 (4-6-0), Central of Georgia 453 (4-8-4), Southern 1407 (Ps-4), Southern Macon 4867 (Mikado), Central of Georgia 452 (4-8-4), Central of Georgia 495, Murphy Division N.C. 871 and 862 (2-8-0), Georgia Railroad 159 (4-6-0), Central of Georgia 477 (4-8-2), Central of Georgia 1388 (4-6-2), Southern 1479 (4-8-2), Southern 1463 (4-8-2).
$5
 



	
2004
Atlantic Coast Line 1740 (4-6-2), Central of Georgia 452 (4-8-2) 457 (4-8-4) 481 (4-8-2), Georgia Railroad 281 (4-6-2), Louisville & Nashville 1834 (2-8-2) 1884 (2-8-2), Nashville Chattanooga & St. Louis 582 (4-8-4) 587 (4-8-4) 566 (4-8-4) 623 (2-8-2), Southern Railway 1209 (4-6-2) 4887 (2-8-2) 4895 (2-8-2) 6452 (4-6-2) 6635 (2-8-2) and Tallulah Falls 75 (2-8-0).
$5
 



	
2003
Atlanta Birmingham and Coast 372 (4-8-2), Atlantic Coast Line 1600 (4-6-2), Central of Georgia 47 (4-8-4) 473 (2-8-2) 707 & 706 (2-10-2), Gainesville Midland 206 (2-10-0), Georgia Northern 130 (4-6-2), Georgia Southwestern & Gulf (4-4-0), Louisville & Nashville 2213 (4-6-2), Macon Dublin & Savannah 110 (4-6-0), Nashville Chattanooga & St. Louis 558 (4-8-2) 623 (2-8-2), Southern Railway 27 (2-8-0) 1460 (4-8-2), and Western of Alabama 181 (4-8-2).
$5
 



	
2002
Seaboard Air Line 3005 (EMD E4), Georgia & Florida 206 (4-6-0), Fairbanks Morse Unit 2, St. Louis - San Francisco 1066 (4-6-4), Seaboard Air Line Centipede 4510 (4-D-D-4), St. Louis - San Francisco 1018 (4-6-2), Seaboard Air Line 2013, Atlanta Birmingham & Coast 79 (4-6-2), Southern Alco DL-108,  Southern 405 (2-8-8-2), Gulf Mobile & Northern 352,  Louisville & Nashville 760 (EMD E7), Tullulah Falls 75 (2-8-0), Southern 4125 (EMD FT A-B-A), Georgia Railroad 455 (2-6-0).
$5
 



	
2001
Atlantic Coast Line 7320 (2-8-2) and 7374 (4-8-2); Central of Georgia 481 (4-8-2) and 776 (2-10-2); Central of Georgia 776 (2-10-2) and unknown (4-8-4); Central of Georgia 775 (2-10-2) and unknown (4-8-4); Gainesville Midland 203 (2-10-0) and 301 (2-8-0); Georgia 323 and 325 (2-8-2); Nashville, Chattanooga & St. Louis 557 (4-8-2) and 569 (4-8-4); Nashville, Chattanooga & St. Louis 583 and 581 (4-8-4); Seaboard Air Line 524 and 518 (2-10-0); Seaboard Air Line 260 (2-8-2) and 2499 (2-10-2); Seaboard Air Line 2488 (2-10-2) and 340 (2-8-2); Southern 1263 and unknown (4-6-2); Southern 6625 and 6619 (2-8-2); Southern 1258 and 1313 (2-6-2); Southern 4905 and 4609 (2-8-2).
$5
 



	
1996
Atlantic Coast Line 1663 (4-6-2), 2100 (2-10-2), 1808 (4-8-4); Central of Georgia 455 (4-8-4), 709 (2-10-2); Columbia, Newberry & Laurens 8 (4-6-0); Gainesville Midland 207 (2-10-0); Louisville & Nashville 295 (4-6-2); Norfolk & Western 1218 (2-6-6-4); Seaboard Air Line 2492 (2-10-2); Southern Railway 1481 (4-8-2); Tennessee, Alabama & Georgia 306 (2-8-2); Tallulah Falls 78 (2-8-0); Western of Alabama 190 (4-6-2); Wrightsville & Tennile 221 (2-8-0).
$5
 



	
1992
Atlanta & West Point 261 (4-6-0), 290 (4-6-2); Charleston & Western Carolina 253 (4-6-0); Georgia R.R. 255 (4-6-2); Gulf Mobile & Ohio 377 (4-6-0); Illinois Central 3601 (0-10-0); Interstate R.R. 5 (2-8-0); Savannah & Atlanta 750 (4-6-2); Seaboard Air Line 2502 (2-6-6-4); Southern Rwy. 1509 "Maud" (0-4-4T); 1461 (4-8-2) doubleheading with 1483 (4-8-2); 608 (2-8-0); 5245 (2-10-2) doubleheading with 1462 (4-8-2) on Saluda Grade, N.C.
$5